1
« on: July 02, 2020, 16:50:38 PM »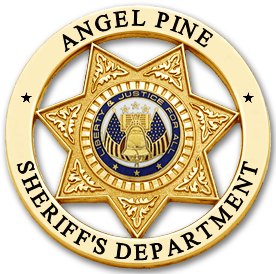 Angel Pine Sheriff's Department
"Dedicated to Order with Steadfast Loyalty and Unrivalled Valour."
-----------------------------------------------------------------------------------------------------------------------------------
1. Personal Information
Full Name: Elliot_Meadows
Date of Birth: 17/10/1978
Gender: Male
Telephone Number: 107193
Main Address: Angel Pine Apartments 28
Licenses: (check with an 'X')
[X] - Driver's License
[X] - Firearms License
[ ] - Aviation License (Secondary Skill: Pilot/Flight 3+)
2. Basic Requirements
((OOC))
Player Level: Many characters, Elliot is lv 14.
Do you have past experience as a LEO? If so, where: Many servers and VWH as well.
Character Race: Demon
Activity: (Provide a screenshot of your in-game /activity)
Arecord: (Provide a screenshot of your /arecord)
3. Essay
(Take your time when answering these questions. At least one healthy paragraph is expected per question)
3.1 Tell us some things about yourself
:
My name is Elliot Meadows, I was born in London in 1978, Since a kid I enjoyed spending my time in learning new things reading books and crafting useful items, I have a passion for researching and creating chemicals which is the private job I'm employed in right now, I have a vast quantity in the technology sector, I'm really qualified in getting informations and investigating, and that's what makes me think that I have a chance on joining the department, If I'll be accepted, I hope to give my best to in order try to join the internal affairs division which is the one I think i fit the most, my knowledge encouraged me on applying for the department, so here I am.
3.2 Provide an overview of your education and upbringing
:
Like any other normal person I went to primary school and after it obviously I joined the high schools after that, I joined the college too, but left it after few years, I decided to proceed my studies on my own using my tools which are books, computers and researches, my dad was and still is the owner of the biggest library in london, when I was younger I used to spend my days reading science books, history books and even law regarding books.
3.3 Why have you decided to join the Sheriff's Departemnt
?
I have decided to join the department because I like helping the people who needs my help, also I would like to use my knowledge on this tremendous opportunity that the department is offering me.
I'm not boasting my knowledge but there are only few people who are expert in the technology section and I think that my knowledge will lead the department to higher levels.
Apart of the technology knowledge, I'm also good in athletics and body to body fights which qualifies me as a potential future deputy.
3.4 What are your expectations from this job
?
I'm not expecting it to be an easy or simple job but I think that every sacrifice will be rewarded, also I always have a lot of free time which I don't know how to spend, and I think that the department will help me on fixing this issue.
Angel Pine isn't calm at all, so I'm sure I'll have to patch myself up and start giving my best to help the department on making Angel Pine a better place.
3.5 Define the skills you possess that are well suited for the department
.
I have an incredible knowledge in the technology section, I'm working as a private chemist and a researcher right now, and this qualifies me on joining the internal affairs section, I'm also really prepared using computers and every type of technology devices such as bombs and much more, apart of this I'm also well dotated in my physical attributes which will make me a potential deputy and an useful one.
3.6 What were you previously employed as? Provide a brief overview of your past careers
.
Before turning eighteen I simply helped my father on managing his library by cleaning it, let's say I was a janitor, after this I started my own business which I'm still running nowadays, I'm a private chemist and researcher I'm discovering new non-identified substances and formulas, and If I'll be accepted I'll obviously be employed in the department.
---
By submitting this application I acknowledge that I have not been banned from applying for the APSD and am in good standing with the department. I hereby claim that nothing in this application is submitted to be false or of a deceitful nature and everything aforementioned in this application is of 100% accuracy and honesty. I take full responsibility for any recruitment policy violation.
Signed 01/02/2001,
Elliot Meadows.