1
« on: January 17, 2021, 22:05:01 PM »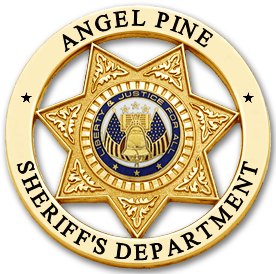 Angel Pine Sheriff's Department
"Dedicated to Order with Steadfast Loyalty and Unrivalled Valour."
-----------------------------------------------------------------------------------------------------------------------------------
1. Personal Information
Full Name: Elias Riley Dawson
Date of Birth: 17/10/1980
Gender: Male
Telephone Number: 17056
Main Address: Angel Pine, Main Motel.
Licenses: (check with an 'X')
[X] - Driver's License
[X] - Firearms License
[ ] - Aviation License (Secondary Skill: Pilot/Flight 3+)
2. Basic Requirements
((OOC))
Player Level: 1 (Just created the character)
Do you have past experience as a LEO? If so, where: A lot of times in VWH.
Character Race: Hunter
Activity: (Provide a screenshot of your in-game /activity)
Arecord: (Provide a screenshot of your /arecord)
Character Sheet: (Provide a screenshot of your /cs)
3. Essay
(Take your time when answering these questions. At least one healthy paragraph is expected per question)
3.1 Tell us some things about yourself
: My name is Elias Dawson, I used to live back in Los Santos; that's where I was raised in an orphan community that led me into studying Law.
At the age of eighteen I joined the academy trainings to make myself more comfortable later on by joining the LSPD at the age of twenty two, recently I moved to Angel Pine waiting for a reinstatement as Deputy in the Sheriff Department.
3.2 Provide an overview of your education and upbringing
:
Before arriving to Angel Pine, I've frequented the elementary school as everyone would do, after years I've moved to the high schools to then find myself studying law inside of a private university in my orphan community, it waas a sort of organization which granted me a diploma in Law.
3.3 Why have you decided to join the Sheriff's Departemnt
?
I've decided to join the Sheriff's Department because I wanted to move somewhere else with my life, perhaps start a new chapter leaving my past behind, but anyway, the main reason is because I've studied law for years, and obviously I'm not wasting the occasion.
3.4 What are your expectations from this job
?
My expectations are the ones of working-hard knowing Angel Pine is not that much of a calm town, and perhaps make myself known around the department to achieve a high rank in future, I plan on staying in Angel Pine for a long time serving the law, as I always did.
3.5 Define the skills you possess that are well suited for the department
.
I'd like to start by saying I'm a former LEO and Marine, I've been trained for every sort of situation, one skill I'm proud of is my capabilities of using firearms, I've been training my aim using firearms for years and years, but apart of that, I'm a well-shaped man both physically and mentally, I can handle every sort of situation especially the ones where team-work is needed, I'm willing to help the department by any way.
3.6 What were you previously employed as? Provide a brief overview of your past careers
.
To afford my studies I've used to sell ice creams, so basically was employed as Icecreams Vendor inside of a famous franchising, after that my most important employement did come, I used to work as Police Officer for a few years already back at Los Santos, and now here I am, applying for a place in the APSD.
---
By submitting this application I acknowledge that I have not been banned from applying for the APSD and am in good standing with the department. I hereby claim that nothing in this application is submitted to be false or of a deceitful nature and everything aforementioned in this application is of 100% accuracy and honesty. I take full responsibility for any recruitment policy violation.
Signed [17/01/2002],
[Elias_Dawson]